White Bees - A home for friends
On the outskirts of Belgrade, just below the peak of mount Avala and surrounded by magnificent nature and clean air lies a home named WHITE BEES, a place which provides pleasant accommodations and the upmost care for the elderly who have decided to retire into a natural, comfortable and luxurious environment along with constant attention and health care provided by doctors, medical workers and caregivers. VIDEO...
The home of good people
We provide help to people who need care, as well as their families, so that they can better manage all the challenges associated with aging. Our doctors, medical staff, caregivers and physiotherapists are experienced specialists who take care of your health 24 hours a day. The White Bees Home is registered so it can provide services to adults, the elderly and the sick with the Ministry of Labor, Employment, Veterans and Social Affairs.
Quiet but never boring
White Bees is an oasis of tranquility and relaxation but at the same time it is a place which provides various cultural and entertainment content, literary evenings, joint excursions, tournaments in board games, cooking and other daily activities. We are also equipped with a large library.
• Joint excursions, visits to cultural and historical places
• Birthday celebrations, religious holidays, parties
• Theater plays and concerts
• Creative workshops, singing, painting and music sections
• Tournaments in board games, chess, dominoes, bridge
• Walks through Avala and the nature that surrounds White Bees
Swimming pool and spa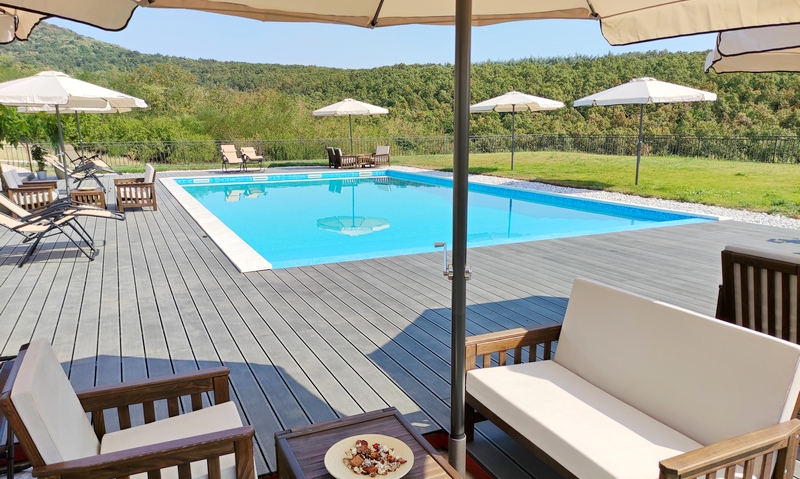 Just a few steps from the home, on the eastern slope facing the dense forest, there is a modern and large swimming pool equipped with a spa centre. The pool is available to all users and in the spa center treatments are performed in accordance with the guests' requests. The water in the pool is constantly monitored and using a state of the art system it is be purified and later returned to nature.

Choose your room
Choose a view, room size and the ambience of your new home. You can choose an apartment with a view of Avala or if you prefer you can choose one with a view of Kosmaj.
If you are coming with a spouse you can adjust your living space to your own habits.
Call us to make the arrangements. Book your room with one click
here
.
Make your own weekly schedule
Morning walks
Light exercises
Breakfast
Courses, workshops
Internet café
The library
Lunch
Trim track
Board games
The pool
Dinner
Cinema