Who are the White Bees
White Bees, a home for adults and the elderly, located on mount Avala, serves for all of those who want to spend their third age in a luxurious and comfortable environment provided with constant health care and the supervision of selected professionals.
Doctors, medical technicians, caregivers, social workers and a physiotherapists are all commited to taking care of your health. Our institution is registered for the services of taking care of the elderly and sick by the Ministry of Labor, Employment, Veterans and Social Affairs. All employees are carefuly selected and have decenary experience in performing their duties.
Our mission
Our company strives to enrich its successful business with a humane mission and make its acquired reputation synonymous with reliability, quality and commitment. In one word our goal is to ensure that we become quality hosts to all those who desire to spend their third age in a beautiful setting near Belgrade, regardless if they are coming from Serbia or abroad.
The owners of the home have been engaged in private entrepreneurship for years, hence they have gathered ample experience in various fields which allowed them to improve company activities, gain knowledge in terms of healthy lifestyle and the application of alternative medicine, constructing pharmaceutical products, various teas, nutritional diets. Years of traveling and gaining experience led up to the decision to crown our family buissnes with setting up a home for the elderly. Our gaint is to create a capital, luxurious and representative facility that we will constantly strive to improve, expand and leave later on to our successors. The White Bees home for the elderly invites you to join us and become part of a large and satisfied family.
A team of first-rate experts
The home for accommodation of adults and the elderly White Bees is an institution of a social and health care type, which employs first-class experts who are especially trained to work with the elderly. Accommodations in the home are devised to provide the utmost comfort for all tenants, regardless of their current physical condition. For users with special health needs and those in palliative care, hospital apartments with specialized beds and all of the needed equipment are provided, along with the constant presence of our nurses and doctors. If your parents or relatives are self-supporting or if they however require help with daily activities, with the constant care of our caregivers and organized daily activities thought of by a social worker, they will enjoy a hotel-type accommodation of the highest category.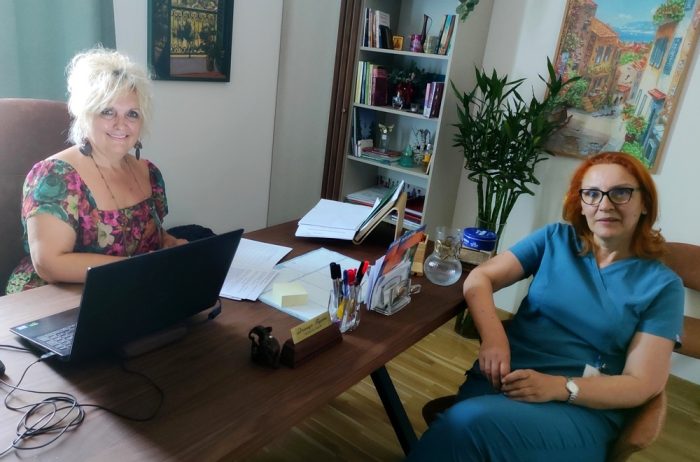 Who and how takes care of you
A top-grade team of doctors is at all times at your disposal – these people are specialists who are thoroughly acquainted with the health status of all the tenants. Organization of daily activities, socializing, birthday and other celebrations as well as daily consultations with a social worker. A number of full-time nurses and caregivers take care of our tenants 24 hours a day. Experienced chefs in a state-of-the-art, professionally equipped kitchen strive to prepare delicious and healthy meals from food sourced directly from farmers located in the immediate area. The home has all the necessary equipment that enables work with immobile and disabled users: anti-decubitus mattresses, wheelchairs, hospital beds with accompanying equipment.
If our users need transportation to the hospital or from the hospital to the home, we provide medical transportation with an appropriate escort. For users whose families reside abroad or in other cities in Serbia, we are at your disposal in the means of purchasing medicine and medical equipment by prior arrangement. If you are in need of information concerning acquiring the right to someone else's care and assistance or legal advice regarding the procedure for acquiring a guardianship, we are also at your disposal.
The third age in modern society
In today's modern world with the population getting older the care of older citizens is being taken over by institutions that specialize in the field of care giving. The former preconceptions that only those who have no one in terms of family or friends are applying to be accommodated in a home for the elderly are disappearing. Times have changed and so have accommodation and services in these institutions. Nowadays future tenants are looking for a surplus space in homes like ours because they are not dormitories for old people anymore, but places where people in their seventh or eighth decade live their life with full lungs. These people socialize together and travel while at the same time having full medical care at their disposal..
People today decide to relocate to nursing homes not only because of an illness or inability to take care of themselves, but also after the loss of a spouse, present feelings of loneliness or the fact that they are separated from their children who do not have the time to visit them on a regular basis due to the modern and fast pace of life. We employ a crew of professionals who invest their effort and knowledge in order to accommodate the elderly in an adequate and dignified manner, so that their lives take on a qualitatively new dimension. Our home provides comfortable, modern and luxurious accommodations for 70 tenants at whose disposal are all the other accompanying facilities such as the swimming pool and spa center, the library, the cosmetic services, physiotherapy treatments and medical services as well as complete logistics which make up a modern resort. The White Bees home is designed and set up to provide the highest level of service along with luxury equipment in order for our tenants to feel complete comfort, convenience, safety and protection at all times.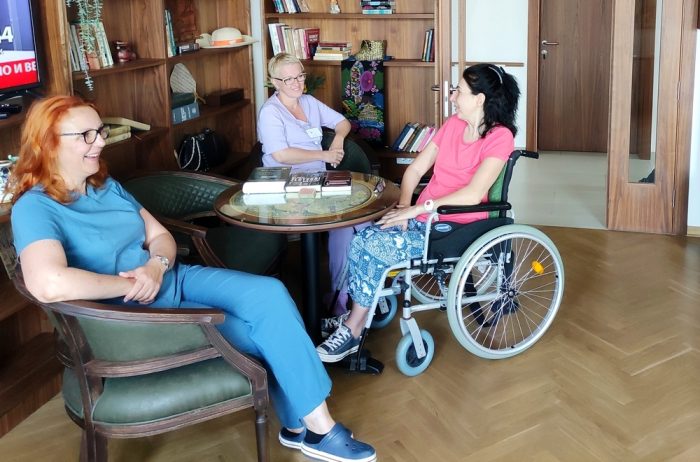 Meet our team
A well-coordinated team of professionals who love their jobs are in charge of making sure that everything runs smoothly in the White Bees home. If you decide that this place is the right place for your loved ones, you are more than welcome to ask everything you wish regarding the admission procedure.
Prijatno okruženje i ljubazno osoblje

Čist vazduh i uređeno dvorište

Kuća ljubaznih ljudi
Staff members
---
(medical technicians, physiotherapists, support staff)